Welcome to Portland Limo Service
Portland, Oregon has become one of those contemporary, modish cities with such a diverse offering of things to do and see, that you'd be hard pressed to see it all if you were able to devote a week to this very purpose. Portland boasts a great amount of things to do for just about every taste and style. From lush gardens and parks like the Tyron Creek State Natural Area or Laurelhurst, to great museums such as Portland Art Museum, OMSI , or the Oregon Historical Society, and other attractions to tickle your intellect. Then, once the night hits, you'll find a vibrant and dynamic night-life with a vast array of clubs and bars to entertain you and your group. That's not to mention the great taste you'll find in the plethora of restaurants which dot the landscape around town and in downtown proper.
To properly enjoy all that this wonderful city has to offer, you'll do well to arrange a professional limousine service to take you and your group around in style and comfort to enjoy your night out properly... that is to say, you'll be able to enjoy everyone's company and all will be free to drink and party as they see fit. That's one of the great things about limousine rentals, is that we're able to do the designated driving for you and you get to avoid the unsavory task of singling out some of your group to do just that.
When you first contact Portland Limousine Service, you will be greeted by one of our adept, friendly client care representatives. They will guide you through any questions you might have about the service, the vehicles, our policies, or even our chauffeurs. We've made sure that they are highly trained, and know just what it takes to insure you're satisfied with our job well done. In doing business with us, you can rely on our well-maintained fleet of spectacularly equipped limousines and limo buses. The maintenance and clean up crews do a great job at keeping our vehicles running perfectly and in like-new condition. You'll have no worries at all, because we'll be sure that you can rely on everything working just right.
The day will arrive, and we'll be there with smiling faces to welcome everyone warmly into our extravagantly equipped Portland party bus. You'll find that your chauffeur is more than up to the task of insuring that your experience with us is at a world-class level of excellence. We have the best group of first-rate chauffeurs in the area... bar none. They take their service to you with the highest level of earnestness, and take care to catch every aspect of the trip that can improve your experience.
Now, what kind of trip is it for which you're planning to make use of our services? We have served all kinds of events, from the ones you'd think of first when thinking of a limo service company to really unique one-of-a-kind events that even we had never dreamed of. Any type of celebration or get-together is a great reason to make use of a spacious and comfortable limousine, especially when you really want to spend extra time with your friends and loved ones, making use of that time on the road instead of just navigating lane after lane of traffic. On your own, that traffic is a nightmarish maze of frustration, but with us, it's more fun time to enjoy the entertainment features of our vehicles and chat it up with your party-going friends!
Maybe you're celebrating a special birthday, like your 21st or your 50th. We even do a lot of Sweet 16 parties, so if you're looking for safe and reliable transportation for your teens on their big day, look no further. It's imperative to know that your teens won't be at the mercy of a distracted driver (or be the distracted driver), texting and talking and endangering lives. A professional chauffeur is both a caring gift to say "I love you" and an absolute necessity on exciting days when distraction is at an all time high! As the parent, you'll be able to kick back at home, knowing that your kids are totally safe and protected on the road. It's a win-win for teens and parents alike, and many times we find that the parents come back to us for their own events shortly after their teens' proms and graduations!
We've really got an outstanding fleet of vehicles for you to look at. Whether you'd like to browse them right here on the site or come down to the lot to take a look at them in person, we welcome you! Peruse the pictures to see the glowing lights and entertainment features, or come to us and feel the pristine leather of the seats, and even listen to the booming stereo systems. Get the grand tour before you ever even make a deposit to book your bus or limo! Of course, if time is of the essence, you're welcome to just call us for a quick price quote and our experts on staff will be able to choose the ideal vehicle for you based on your particular needs. See the best companies across the US by visiting Jackson MI Limo.
Are you thinking about renting a limo or a bus from us? We suggest making a quick call or shooting us an email with just a few pieces of information. With the type of event, the date of the event, and the number of passengers that you will be expecting, we can give you an instant price quote! From there, if you'd like to lock down your vehicle for the desired date of service, all we need is a quick credit card deposit and we can begin the planning process. Give us a call at any time! We are always available, and always happy to assist!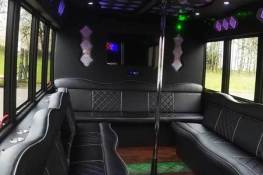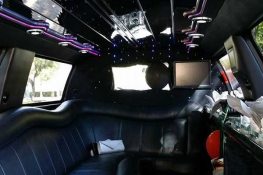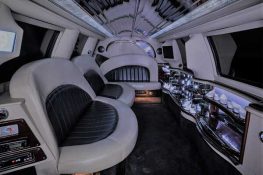 Hottest Features
Flat screen High-Def televisions with DVD player
Our audiophile sound systems will blow you away!
Bars and/or coolers for cold drinks
Privacy enhancing tinted windows
CD system with MP3/iPod interface
LED and Fiber optic lighting
Leather seating for ultimate comfort
Light reflective surfaces
Deluxe flooring
Built in cup holders
HD antenna with network channels(only works when bus isn't moving)